When uncertainty reigns, Delvotest® rules.
Delvotest® is the global standard for antibiotic residue testing for the dairy industry. It confidently tests for the broadest spectrum of antibiotics in milk. Developed by DSM, a leading producer of dairy cultures and ingredients, Delvotest® is rooted in the science of fermentation technology. From small artisan dairy processors to dairy farms to certified dairy labs, Delvotest® has been confidently used in the global dairy industry for over 40 years.
Be certain with Delvotest®
Dairy processors and farmers must avoid passing antibiotic-contaminated milk into the supply stream. The consequences can be costly and devastating to their business. Uncertainties such as the health of a newly-purchased dairy cow, the reliability of previous test methods and results, and ever-changing antibiotic residue government standards all factor into the importance of choosing the most trustworthy test.
There is no more reliable antibiotic residue test than Delvotest®. Because it tests for the broadest spectrum of antibiotics, you can trust your business to Delvotest® results.
Delvotest® for Every Need
Delvotest® provides three primary antibiotic residue testing options: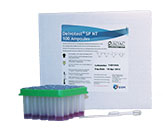 Delvotest® SP-NT
Delvotest® SP-NT is available in a convenient new test kit perfect for screening individual cows and bulk tanks. No tablet is required; just add milk to the ampoule. You get accurate results in less than three hours. Delvotest® SP-NT detects the broadest spectrum of antibiotics. Designed for use on the farm, this standard diffusion test detects most veterinary antibiotics.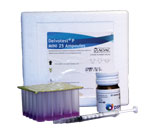 Delvotest® P
Delvotest® P is the original version of this popular broad spectrum milk antibiotic test. Results are available in
2-1/2 hours, and are acceptable for National Conference on Interstate Milk Shipments (NCIMS) use. Easy to use and cost effective, it detects the industry's broadest spectrum of veterinary antibiotics, and is designed for use on the farm or in a laboratory.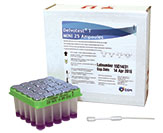 Delvotest® T
Delvotest® T is a broad spectrum test which identifies a variety of antibiotics
at or below European Union Maximum Residue Levels with higher sensitivity
for tetracycline than any other microbiological screening test. It features robust performance and consistent results, and has become the industry benchmark in the Netherlands to detect antibiotic residues in milk in the whole dairy chain.