Delvotest® antibiotic residue tests from DSM are perfect for artisan and farmstead cheese and dairy processing applications. Backed by DSM, the leader in dairy cultures and ingredients, Delvotest® has been the global standard for antibiotic residue testing for over 40 years. Delvotest® confidently detects the broadest spectrum of antibiotics in milk and meets the required antibiotic testing requirements for every state in the U.S. Compared to other antibiotic residue tests on the market, Delvotest® provides low initial start-up costs. Delvotest® is approved by the National Conference on Interstate Milk Shipments (NCIMS) for the testing of bovine, goat and water buffalo milk.
Partner with Delvotest®
Your business depends on accurate antibiotic residue testing. Passing antibiotic-contaminated milk through your end-products can be costly and devastating. The health of a newly-purchased dairy cow, the reliability of previous test methods and results, and changing state requirements are all uncertainties that you face.
When you partner with Delvotest®, you know you are testing for the broadest spectrum of antibiotics. You know you can trust your business to Delvotest® results.
Recommended for Artisan and Farmstead Applications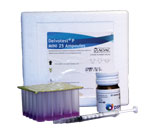 Delvotest® P Mini (25 tests/kit)
Delvotest® P is the original version of our broad spectrum milk antibiotic test.
Detects the broadest spectrum of antibiotics
Easy to use and cost effective
Requires the use of a Delvotest® incubator
Accurate results in 2-1/2 hours
Results are indicated by color
Self-contained kits, except for the required block heater
Each kit contains individual plastic ampoules containing Bacillus stearothermophilus in a solid medium, nutrient tablets, dosing syringe, disposable pipets, tweezers and instructions
Related Products
Delvotest® Incubator
Delvotest® Negative Control
Delvotest® Pen 5 Positive Control