Delvotest® antibiotic residue tests from DSM eliminate the uncertainties dairy farmers face when testing for antibiotics in milk. Whether you are testing individual cows or a bulk tank, the consequences of an unreliable test can be costly and devastating.
As a dairy farmer, you face uncertainties:
Consider those cows you just purchased. The seller said they were healthy and clear of any antibiotics, but are they?
How about that cow you've been treating? You've waited the prescribed amount of time. She should be clear. She probably is. Can you be sure?
What kind of antibiotic residue tests will be conducted at the dairy, and downstream from there? Will your results meet their standards?
How will antibiotic residue standards change, and when? In today's global economy, you do not know where your dairy products might end up, and what regulations might apply.
Why Delvotest®?
Delvotest® detects the broadest spectrum of antibiotics, with clear readings upon which you can rely. You cannot find a broader spectrum test, period.
Delvotest® has been a trusted global leader in antibiotic residue testing for over 40 years.
DSM knows dairy. Not only do we make Delvotest®, we are an industry leader in dairy cultures and ingredients. DSM is totally immersed in dairy and you can trust your antibiotic residue testing to our dairy expertise.
Delvotest® is rooted in the science of fermentation technology. DSM is a recognized world leader in fermentation – the science is solid and the results are trustworthy.
Delvotest® is the global testing standard in the major dairy-producing countries around the world. From Europe to New Zealand, there is no more reliable test than Delvotest®.
Can be used with bovine, sheep, goat and water buffalo milk.
Most Common Antibiotics Detected by Delvotest®
| | |
| --- | --- |
| Product Name | Drug |
| AlbaDry Plus | Penicillin G |
| Amoxi-Mast | Amoxicillin |
| Dariclox | Cloxacillin |
| Dry-Clox | Cloxacillin |
| EXCEDE | Ceftiofur |
| EXCENEL RTU | Ceftiofur |
| Hetacin K | Hetacillin |
| Masticlear | Penicillin G |
| multiple brand names | Penicillin G |
| multiple brand names | Oxytetracycline |
| Naxcel | Ceftiofur |
| Orbenin-DC | Cloxacillin |
| Pirsue | Pirlimycin |
| Spectramast DC | Ceftiofur |
| Spectramast LC | Ceftiofur |
| Today | Cephapirin |
| Tomorrow | Cephapirin |
Recommended for Dairy Farmers: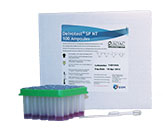 Delvotest® SP-NT
(25 tests/kit or 100 tests/kit)
Delvotest® SP-NT is available in a convenient test kit that is perfect for screening individual cows and bulk tanks.
Detects the broadest spectrum of antibiotics
Detection limits are in-line with FDA tolerances/safe levels
No tablet required, just add milk to the ampoule
Requires the use of a Delvotest® incubator
Accurate results in under three hours
Results are indicated by color
Self-contained kits, except for the required block heater
Each kit contains individual plastic ampoules containing Bacillus stearothermophilus in a solid medium, disposable pipets and instructions.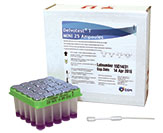 Delvotest® T
(25 tests/kit or 100 tests/kit)
Are you concerned with meeting European standards? Delvotest® T is a broad spectrum test that identifies a variety of antibiotics at or below European Union Maximum Residue Levels with a higher sensitivity for tetracycline. It features robust performance and consistent results, and has become the industry benchmark in the Netherlands to detect antibiotic residues in milk throughout the dairy chain.
Related Products
Delvotest®Incubator