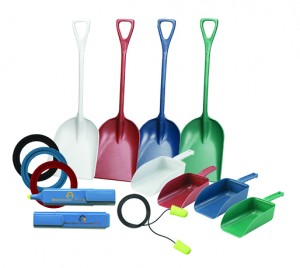 Detection of contaminants is key part of food safety. Increasingly demanding government regulations continue to fuel the importance of using metal detectors to detect and reject harmful and intrusive objects.
If you use metal detectors at your facility, we can help enhance your HACCP and GMP programs with our wide line of metal detectable products. From safety supplies to processing tools, we can help ensure your products integrity.
For more information, find Metal Detectable Products in Our Specialties section.
What is the Smallest Piece of Foreign Object that can be Detected by a Metal Detector? This answer varies greatly. It is dependent upon the material of the contaminant itself, the speed of the line and the moisture content. The height of the detector...
Why Blue? Many metal detectable products are colored blue for two reasons: Easy visual detection It is the most common non-food color What is used to make Tools and Equipment Metal Detectable? In plastic products such as scrapers,...