Selecting the Right Wheel & Caster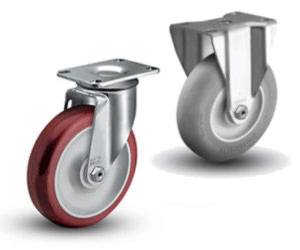 Nelson-Jameson is able to satisfy virtually every caster and wheel need found in food processing plants. Our material handling specialist can work with you to select the proper material.
Wheel Material
Performa Rubber: Feature a non-marking thermoplastic elastomer tread bonded to a polyolefin wheel core. Wheels roll easily and quietly with a cushioned ride. Very durable.

Polyolefin: Very light, yet feature superior impact strength. Resist most chemicals. Non-marking floor protection.

Phenolic: Filled with macerated fabric. Quieter than steel or aluminum. Provide superior floor protection. Resistant to hard impacts, most chemicals and steam.

HiTech Polyurethane: Treads are mechanically locked to a polyolefin core to prevent debonding. Resist most chemicals. Non-marking and very durable.
Casters
Stainless Steel: built to handle the most punishing, corrosive food processing environments. All components made of stainless steel. Easy rolling bearings, non-corrosive and virtually maintenance-free. Load capacities range from 200 to 900 pounds per caster with a choice of three wheel types. Available in swivel and rigid designs.

Standard Duty: Able to handle up to 900 pounds per caster. Available in swivel and rigid designs. Features include: Zinc-plated finish, double hardened raceways, 1/4″ axle with zerk grease fitting, 1/4″ steel top plate, permanent rivet king construction with 5/8″ diameter rivet. Up to nine different wheel types.

General Utility: Ideal for many medium-duty applications. Rated for loads up to 250 pounds per caster and available in swivel or rigid designs. Feature: zinc-plated finish, double ball hardened raceways and 3/8″ axle.
Shop Casters & Wheels