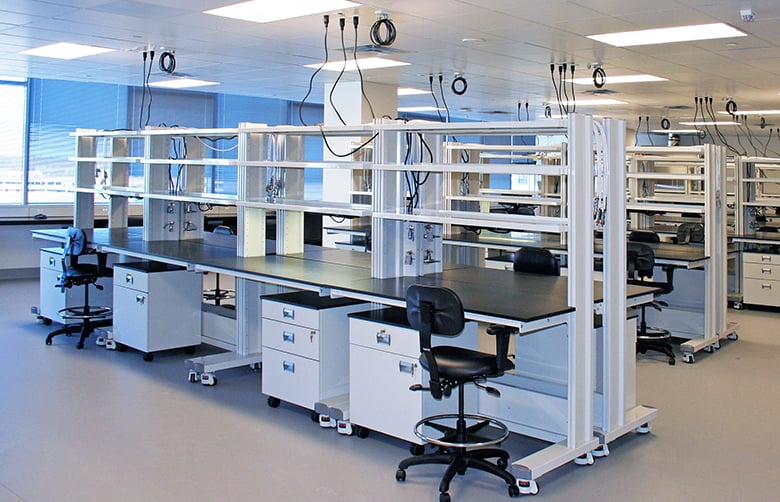 Laboratory Furniture, Equipment, and Design Services
Nelson-Jameson provides custom lab furniture, equipment, and design services for domestic and international labs. Together, we can plan everything from cabinets, countertops, and fume hoods;
to sinks, balance tables, safety cabinets, and much more—building flexible systems to optimize lab spaces for any application.
---
Laboratory Furniture
Choose from a variety of material options for cabinets—in the standard three heights: Standing (35"h), Seated (29"h), ADA (33"h). Meet your storage needs with multiple door and drawer configurations. To optimize your storage space, add tall storage cabinets, upper wall cabinets, or corner cabinets as part of your custom design.
Cabinet Material Options:
Countertop Material Options:
Epoxy Resin
Phenolic Resin
Stainless Steel
Butcher Block
Laminate
Lab-grade Laminate
ESD Laminates
Marble
Solid-Surface Material
Standard Cabinet Color Options:

*These colors may vary due to your monitor/display settings and are approximations of actual paints. All drawer bodies
will be painted off-white. Contact us for more information or for more accurate samples!
Countertop Color Options:
Depending on countertop material, the following are standard countertop color options:
Graphite
Stainless Steel
Several stain options available for butcher block
---
Flexible systems
Flexible systems are a space-saving solution for labs that require multiple configurations or countertop heights. We can provide you with freestanding tables (available with optional locking casters); mobile base cabinets that fit underneath countertops or can be pulled out for additional work surface; and above-counter shelving for added storage.

Benefits of Flexible Lab Furniture:
✔ Counters and shelves easily adjust by 1" increments
✔ Adjustable or fixed table heights
✔ Efficient use of floor space
✔ Americans with Disabilities Act (ADA) compliant fume hoods
✔ Improves lab ergonomics
---
Fume Hoods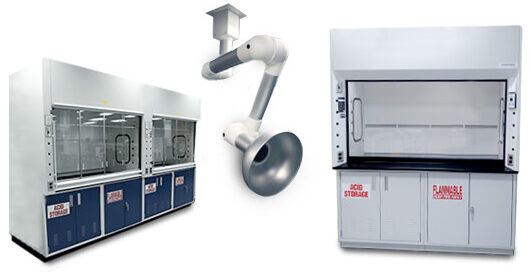 Discuss your hazardous chemical uses with your Project Manager—they will suggest the chemical fume hood that will provide your personnel with the best protection.
Options available:
High Performance
Airfoil Bypass
Add Air
Canopy
Demonstration
Low Bench
Perchloric Acid
Radioisotope
Snorkel
Thin Wall
Variable Air Volume (VAV)
Walk-in
Midwest Lab Ventilation Testing & Certification
Ventilation and biosafety testing and certification is available with a team of NSF-accredited laboratory inspectors throughout the Midwest and Great Lakes regions. Fume hood certification ensures your safety protocols meet the ANSI/AIHA/ASSE Z9.5-2012 Standard through the ANSI/ASHRAE 110-2016 Test Method. Both primary and secondary testing are provided as outlined by NSF International's Standard 49, as well as safety certification for laminar flow devices and laboratory clean rooms.
Testing provided in: Illinois, Indiana, Iowa, Michigan, Minnesota, Missouri, Wisconsin, and Ohio.
---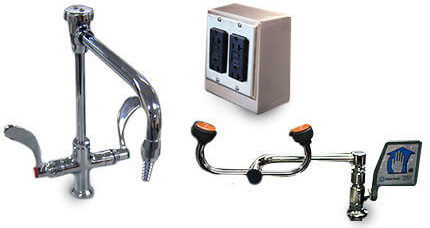 fixtures & Accessories
Fixtures and safety equipment for labs:
Eye washes
Face washes
Drench hose units
Emergency showers
Safety stations
Biological safety cabinets
Chemical storage cabinets

Sink faucets

Gas fixtures
Electrical fixtures

Vacuum breakers
Vandal-resistant fixtures
Valve and mount styles
Accessories that make the lab safer and more efficient:
Dishwasher
Utility tables
Balance tables
Support rods
Laboratory carts
Office furniture

Laminar flow hoods

Vent kits
ADA-compliant assemblies
Task lighting
Stainless steel scullery

and
tub sinks
Hands-free water control devices
Polypropylene cabinets and fume hoods
Why Source Fixtures and Accessories Through Nelson-Jameson?
✔ Custom-tailored to industry needs
✔ Color and material coordination
✔ Easy maintenance and replacement
✔ Cost-effective accessory materials
Custom Built Laboratories:
Ready To Start Your Custom Laboratory Design?

Contact Us at 1.800.826.8302 or

[email protected]