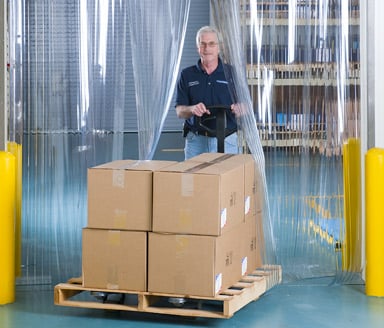 SAVE ENERGY AND KEEP OUT NOISE, DUST, AND INSECTS
Strip doors easily allow personnel or machinery to pass through. USDA-accepted, reinforced clear strips
in either 8" or 12" wide sizes.
They remain flexible from -50° to 150° F. Complete doors shipped assembled. Replacement strips available.
Click here to order replacement strips.
HOW TO ORDER
1

Specify exterior or interior building use.

2

Choose Face (Wall) Mount OR Jamb (Header) Mount.


3

Provide exact door dimensions.

4

Specify strip size: 4", 6", 8", 12", or 16".

5

Determine overlap percentage required:
a. 25% (16" only)
b. 50% (4", 8" or 16" only)
c. 66% (6" & 12" only)
d. 75% (16" only)
e. 100%

6

Is area of usage standard or cooler/freezer?

7

Is there forklift traffic?

8

Mounting system:
a. MaxBullet® - save your plant time and money with Aleco's exclusive strip door system. Once the hardware is installed, no tools are ever needed again making installation 75% faster and PVC strip replacement 90% faster. Decrease the chances of nuts and bolts going missing - as none are needed for the MaxBullet system.

Stainless Steel
Aluminum
HTP Plastic

b. Standard Studded
TO ORDER: Call Customer Service 800-826-8302
Note:
Custom products are made to YOUR specifications; therefore orders cannot be cancelled and are not returnable unless defective.