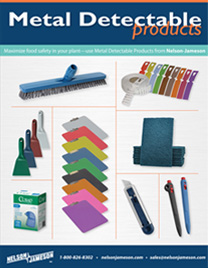 Maximize food safety in your processing plant
Detection of contaminants is key part of food safety. Increasingly demanding government regulations continue to fuel the importance of using metal detectors to detect and reject harmful and intrusive objects.
If you use metal detectors at your facility, we can help enhance your HACCP and GMP programs with our wide line of metal detectable products. From safety supplies to processing tools, we can help ensure your products integrity.
For more information on metal detection, visit our Learning Center.
Enhance your HACCP & GMP programs and add to your metal detectable program today!