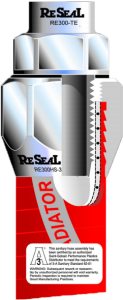 ReSeal® fittings meet the stringent requirements of critical processing industries while being totally reusable. Whether your sanitary hose assembly needs frequent inspection, becomes kinked, is damaged in some way, or simply wears out, our ReSeal® stainless steel fittings can be dismounted and reattached to a new length of hose. You'll still have to buy the new hose, but being able to reuse the ReSeal® fittings can save you between 50% and 90% of the cost of a completely new assembly.
The full flow smooth bore and compression seal design of ReSeal® fittings means there are no obstructions on the inner surface of the fitting—and obstructions provide the perfect breeding ground for harmful bacteria and other contaminants. The faster you can clean a sanitary fitting assembly, the sooner you can restart your operation. ReSeal® fittings are designed for CIP convenience—no disassembly required. Depending on the hose applications, they are also suitable for COP, SIP and are totally autoclavable.
WARNING: Working pressure ratings are based on ambient temperature. Working pressure and vacuum ratings will decrease as temperatures increase.