PSD Protector® Suction & Discharge Hose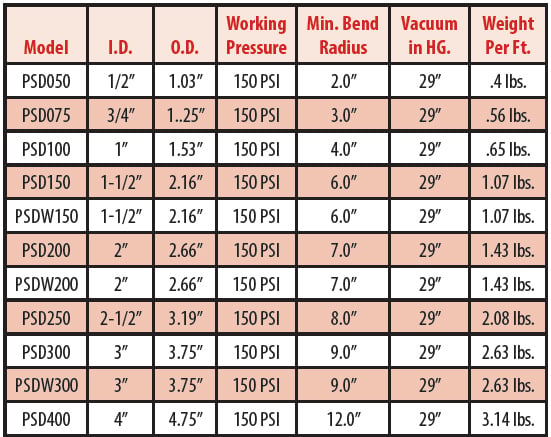 This premium quality, remarkably versatile-use hose is, without a doubt, one of the finest sanitary food and dairy hose available today. The seamless tube is incredibly smooth, making it ideal for food plant use. It won't impart taste or odor to your product and is highly resistant to common CIP solutions. Abrasion resistant cover helps maintain a clean appearance. Unique fabric spirals and helix reinforcement gives our suction and discharge hose exceptional flexibility.
COLORS: Gray – all sizes, White – 1-1/2", 2", 3" only
APPROVALS: USDA, FDA, 3-A
TUBE: White, FDA, 3-A*, Chlorobutyl
REINFORCEMENT: Spiral-plied synthetic fabric with monofiliment helix
TEMP. RANGE: -30 to 225° F
COVER: Orange EPDM w/white stripe
---
SSW Sentry® Softwall Discharge Hose



When you need ultra lightweight and ease of handling in a straight discharge application, this is the hose for you. Ideal for overhead CIP wash units. The super-smooth seamless tube will not impart taste or odor and handles most CIP solutions with ease. Striking blue cover maintains a clean appearance and resists abrasion.
COLORS: Blue
APPROVALS: FDA, USDA, 3-A, CFIA
TUBE:Seamless white FDA butyl rubber manufactured on chrome polished mandrels
REINFORCEMENT: 2 fabric spirals
TEMP. RANGE: -40° to 225°F
COVER: Blue EPDM
LENGTHS: 1 foot to 100 feet
---
GCR Gladiator® Crush Resistant Hose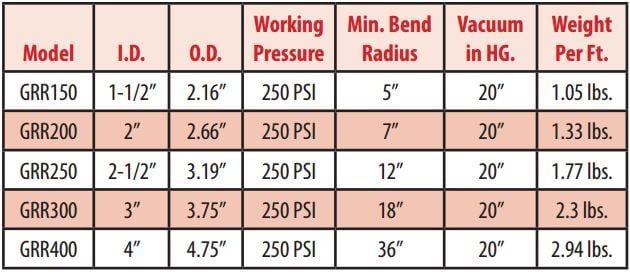 That's right. You can actually run over this hose with a fully loaded bulk truck and keep right on using it! The secret is a nylon helix that allows the hose to spring back to its original shape after being twisted, kinked or run over. Conveys a wide variety of dairy and food products – suited especially for receiving bay or raw product intake applications. Seamless tube will not impart taste or odor. Slightly heavier and less flexible than our suction and discharge hose, the crush resistant hose has a high working pressure of 250 psi. Caution: Gladiator is rated at 20" Hg (about 75% vacuum) but will actually pull a full vacuum when new. However, repeated collapsing of the hose will create a "soft spot" that reduces vacuum capabilities, even though it rebounds to its original shape.
COLORS: Red
APPROVALS: FDA, USDA, 3-A
TUBE: White FDA butyl or synthetic polymer
REINFORCEMENT: Multiple fabric spirals with monofilament helix
TEMP. RANGE: -40° to 225°F
COVER: Red EDPM
---
SW630 Food Suction Hose



This ultra-flexible food hose was designed for milk, fruit juices, soft drinks, beer, wine, pharmaceuticals, cosmetics and other non-oily food products. Smooth cover provides extreme flexibility while minimizing bacteria build-up often found in corrugated hoses. Manufactured on stainless steel mandrels for an ultra-smooth bacteria free tube that will not impart taste or odor.
COLORS: Gray
APPROVALS: FDA, USDA, 3-A, PMO
TUBE: White Chlorobutyl
TEMP. RANGE: -40° to 225°F
COVER: Gray EPDM
---
MHH MilkFlex™ Hose



Finally, a hose designed with haulers in mind. If you're tired of dealing with stiff hose during the winter months, along with cracked helix and pinhole leaks, then you'll want to switch to MilkFlex hose, the most flexible, lightest weight rubber milk pick-up hose available today. MilkFlex milk haulers hose was designed to replace PVC hose, doing away with problems related to freezing winter weather and elevated cleaning temperatures. Less frequent hose replacement and repair saves you money and needless frustration.
COLORS: White
APPROVALS: FDA, USDA, 3-A
TUBE:White FDA butyl
REINFORCEMENT: 2 fabric plies with double wire helix
TEMP. RANGE: -40° to 190°F continuous
COVER:White rubber with black and white pattern stripe
---
CTL Challenger™ Teflon® Suction Discharge Hose

With its smooth Teflon/FEP-lined tube, this hose is recommended for high-viscosity applications. The Teflon lining will not impart taste or odor. Its non-stick, chemically inert tube can be safely cleaned with open end steam at low pressures. Dual wire helix design provides full vacuum and excellent flexibility.
COLORS: White – most sizes, Green – 2-1/2″
APPROVALS: FDA, USDA, 3-A, and meets USP Class VI requirements
TUBE: White FDA Teflon/FEP
REINFORCEMENT: 2 fabric spirals with dual helix and static wire
TEMP. RANGE: -40° to 350°F
COVER: White EPDM
---
BRH Brewer Hose



Specially designed to meet the needs of the brewing industry. An excellent choice for transfer of non-oily liquid products. Resists damage from kinking or flattening. Available in bulk or fabricated hose assemblies.
COLORS: Red
APPROVALS: FDA, USDA, 3-A
TUBE: White chlorobutyl
REINFORCEMENT: 1" & 1-1/2" have 4-plies fabric reinforcement, 2" & 3" have 6-plies fabric reinforcement
TEMP. RANGE: -22° to 222°F
COVER: Red EPDM
---