Delfin's diverse product line of dust collection systems are designed to help mitigate the threat of fine dust and loose material—including hazardous combustible dust. Choose the best industrial vacuum and dust collectors for your application.
What Is The Difference Between Industrial Vacuums And Dust Collectors?
Industrial vacuums are designed to remove dust from surfaces, while dust collectors are designed to remove dust from the air. Since the volume of air in a plant is much greater than surface area square footage, industrial dust collectors move a much higher volume of air and dust than vacuums.

Industrial Vacuums
What are industrial vacuums used for?
Industrial vacuums are ideal for cleaning production lines and machinery after the process. They provide industrial-strength dust extraction from surfaces, with the convenience of portability. Fixed suction units also allow for direct extraction on production machinery. Extraction arms and HEPA filter options are available for even greater efficiency.
What should I look for when selecting an industrial vacuum system?
Available Power: make sure you have adequate power for the vacuum to reduce the risk of overloading the electrical system.
Frequency of Usage: single phase vacuums are ideal for noncontinuous or intermittent use. Three phase vacuums can run continuously or be used for heavy-duty tasks.
Product Being Collected: knowing if the product is wet or dry, sticky or abrasive, will help determine the right filtration and other key features and tools the vacuum should have.
Amount of Product: look for a vacuum with large enough capacity to accommodate the product.
Number of Users: if multiple users will be on the system simultaneously, it will affect both the airflow and pressure the industrial vacuum will need.
Portable or Fixed: what makes the most sense for the layout of your facility and how far you need to reach.

Dust Collectors
What are dust collectors used for?
Dust collectors extract airborne dust and light particles during the manufacturing process—applications can be either fixed or mobile. Extraction arms and HEPA filter options are available for even greater efficiency.

How do dust collectors work?
Dust collectors utilize high airflow to draw in air and process it through a filtering system—collected dust and particulates are deposited into a designated collection area. The clean, filtered air is then either returned within the facility or exhausted to the environment.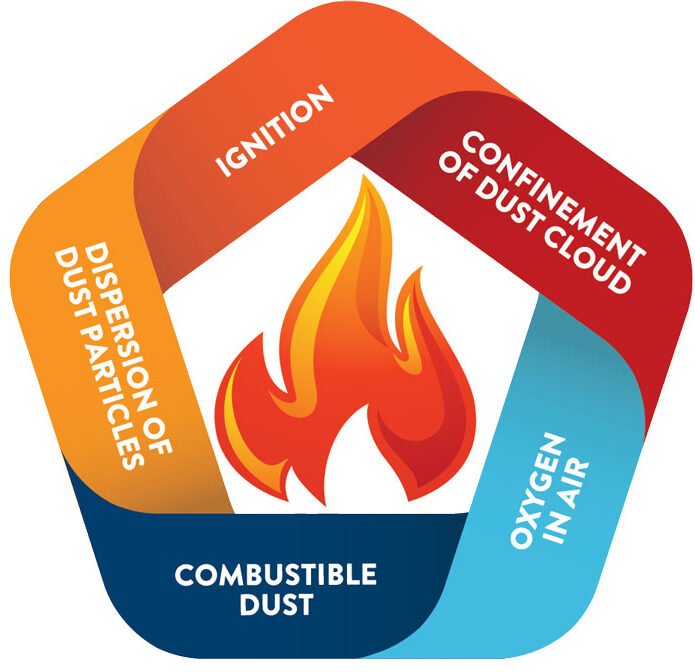 Combustible Dust
What is combustible dust?
NFPA 652 defines combustible dust as a "finely divided combustible particle solid that presents a flash fire hazard or explosion hazard when suspended in air of the process-specific oxidizing medium over a range of concentrations." This applies to all facilities that manufacture, blend, package, repackage, convey, handle combustible dust, or particulate solids that may become dust.
How does a dust explosion occur?
When the following elements combine at the same time, there is risk of a dust explosion:
Combustible Dust: the fuel to burn for the explosion. It hoards in high spot areas or out of sight areas.
Oxygen in Air: fire needs oxygen to burn, which can be found almost everywhere.
Dispersion: hoarded dust can easily become a dust cloud suspended in the air, increasing the explosion hazard.
Confinement: dust confined in closed areas cannot be dispersed and increases dust particle concentration.
Ignition: the element that triggers explosions. The ignition source can vary and also can depend on what the dust is made from.
There are also some materials that become combustible only when in dust form. Keep in mind that after a first explosion, dust is dispersed into the air, which could result in a more deadly, secondary explosion.
Watch Our Webinar: Dust Busters!
Learn How To Prevent & Mitigate Combustible Dust Hazard
Designed for people who assess and manage plant operations including:
Safety Directors, Plant Managers, Quality Control, Production Managers, Environmental Health & Safety Managers, Engineering, Maintenance, Sanitation and Purchasing departments. Perfect for processing facilities, manufacturing plants, and other environments that can generate combustible dust.
Shop Industrial Vacuums
Shop Vacuum Accessories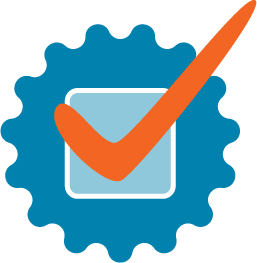 Preventative Maintenance
Performing regular scheduled maintenance can help ensure your industrial vacuum remains operating under safe conditions—helping prevent costly and potentially dangerous situations from occurring. Incorporate routine filter changes for increased efficiency and reduced risk of product contamination.
Our complimentary Preventative Maintenance Checklist provides a list of up to 35 parts of an industrial vacuum, recommended to be routinely inspected.
Video Resources