Cheese Is One Of The Most Consumed Foods On The Planet!
Today's dairy aisles are continuously changing to keep up with consumer demands for affordable as well as premium products. To enable better food for everyone, Nelson-Jameson and dsm-firmenich offer ingredients and solutions to help dairy manufacturers cater to those wishes.
For more information on choosing the right coagulant, visit our Learning Center.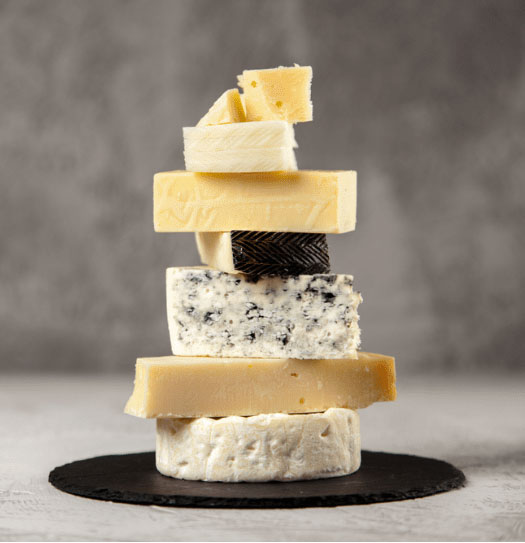 Nutrition-Packed Vitamins
As a leader of vitamin development for more than 70 years, dsm-firmenich offers a comprehensive portfolio of essential vitamins to support a well-balanced nutrition profile.
Dedicated to enriching quality of life through its science-backed, high-quality vitamins—dsm-firmenich offers various solutions to make your products stronger and healthier.
Determine the right ingredient solution for your product—from either existing formulation or a customized premix. Offering fat-soluble or water-soluble, dsm-firmenich vitamin ingredients are available in dry, liquid or powder forms.
Colorful Carotenoids
Occurring naturally in many fruits and vegetables, carotenoids (including beta-carotene and apocarotenal) contain vibrant pigments of yellow, orange, and orange-red color shades.
As a world leader in carotenoid colors for the food & beverage industry, dsm-firmenich's commitment to health and quality remains a top priority.
Harnessing the latest insights in coloration trends—their wide variety of high-performance natural-source, and nature-based carotenoids posses high purity levels and superior color stability that meet the demand for clean-label ingredients with healthy benefits.
Offered in liquid or powder forms, dsm-firmenich offers the best of high-quality carotenoids to deliver products that consumers will love.
The Relevance Of Food Preservatives:
Beverage Ingredients
dsm-firmenich offers a range of specialty enzymes that enable beverage producers to create high-quality, great-tasting, efficiently, and sustainably produced beverages.
Please contact our Nelson-Jameson Ingredient Specialists today to capture those opportunities to produce great-tasting, efficient products at [email protected] or 800-826-8302.