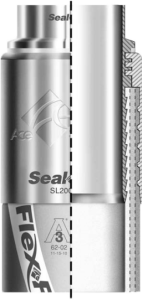 Seal-Rite radial crimp couplers are the purest unitized assemblies available today. Our external crimp design provides a 360° fixed seal at the coupler stem to hose junction point that eliminates the possibility of product wicking between the hose and coupler. Unlike internal expansion which can deform metal and yield die impressions, radial crimp technology will not interfere with the internal surface of the coupling stem. A full flow smooth bore transition is created after fabrication that excludes ledges or crevices that can collect bacteria.
TwistLOC™ components become a single unit that resist separation under severe applications. Internal surface finishes exceed 15 Ra. Each coupling stem is manufactured from 316L grade stainless steel and stamped with a material traceability number which is our commitment to quality. Seal-Rite radial crimped couplers are available for attachment on a variety of hoses.
A wide range of end styles, sizes 1/2" through 6" are available.
*3-A 62-02 standard applies only to assemblies of 3/4" diameter and larger.