Nelson-Jameson has our own line of high-quality, low-cost branded pH buffers. Reference buffers are available in pH 4.01, 5.00, 7.00, and 10.01, and are manufactured for utmost accuracy and repeatability.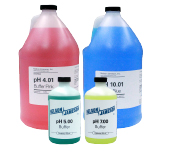 They are color-coded for ease of use when training new laboratory, operational staff, or a tenured laboratory technician. Feel confident that they will be free of contamination and tampering with a pressure-sensitive seal that bonds to the bottle as well as a safety seal and torque-testing to ensure the cap is secure.

A pH/temperature table is printed on the bottle label for accurate calibration. The buffers are NIST traceable, and are manufactured under ISO 9000 quality standards. They are available in different size packaging options such as 475 mL and 1 gallon to accommodate any size operation.
If you are looking for cost savings and a quality line of pH buffers suitable for any laboratory, contact a Product Specialist today for more information!