General Thermometer Tips and Tricks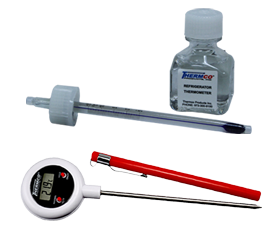 Never store a spirit-filled thermometer horizontally. Always store upright in a case or protective stand.
If you have a separation in your spirit-filled or mercury thermometer, contact Nelson-Jameson at (800) 826-8302 or

[email protected]

for all your troubleshooting tips and resources to reunite.
A spirit-filled thermometer is reunited differently than a mercury filled.
The material filling of a spirit-filled thermometer is all the same when it comes to the color of the material. The color variances are a dye.
Certified thermometers must be recertified annually.
Be aware of mercury regulations in your state. Check with your appropriate regulatory authority prior to ordering. We do have many great mercury alternative thermometer options available. Contact us today for assistance in changing out your temperature monitoring products.
If a mercury-filled thermometer breaks, use a mercury spill kit for safe clean up. Also, report your break and proper disposal to Nelson-Jameson.
---
What is Thermometer Immersion?

---
Infrared Thermometer Tips and Tricks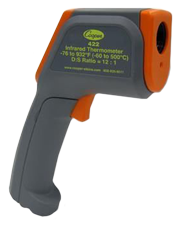 IR Distance to Spot Ratio is the diameter of the area being measured compared to the distance from the target. Example: A Distance to Spot Ratio of 12:1 measures approximately one inch diameter spot when it is 12" from the target. Any measurement outside this ratio may result in an inaccurate temperature reading.
Keep the lens of your IR thermometer clean and free of scratches. It makes a huge difference on your temperature accuracy.
IR thermometers aren't meant to be stored in cold environments continuously. Make sure to consider spares to change out of your cold environments every 20 minutes.
Click here to shop our entire selection of thermometers.