Ultraviolet-C (UV-C) has been a part of the food processing industry for over
50 years. The power of this unique form of light may be invisible to the human eye, but it's impact on sterilization can be felt far and wide. Unlike the costly and corrosive chemicals that are traditionally used in the sterilization process, UV-C disinfection offers an alternative that has been proven to be both effective and cost efficient to your bottom line.
---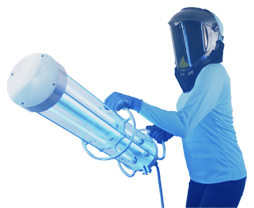 How it is Used in the Food Processing Industry
Corrosive chemicals have a proven track record of wreaking havoc on stainless steel and other equipment in the process of sanitizing your workplace. With specific wavelengths of UV-C, you are able to inactivate microorganisms like bacteria and viruses without causing irreparable damage to delicate process equipment. The incredible power UV-C gives off, requires you to wear Personal Protective Equipment (PPE) during operation. All that is required is covering your skin and eyes from UV-C rays. Due to the frequency of cleaning that is required to ensure the safest environment for your processing needs, the UV-C sanitation method has been proven to be safe and effective for your long-term sanitation needs in your entire facility.
---
Benefits of UV-C Sterilization
The benefits of this unique sterilization method include an efficient cleaning process, a user-friendly design, and eliminating the need for corrosive chemicals. Due to the chemical-free design, you are able to sanitize large areas without the use of corrosive and toxic chemicals that are sure to leave residue on your process equipment, not to mention the savings in water and waste water treatment. Anything the UV-C light source comes into contact with is able to be thoroughly sanitized in a matter of seconds. This ensures that you can easily, and effectively, sterilize all of those hard-to-reach areas as often as needed.
---
UV-C Sanitation vs. Traditional Chemical Sanitizers
Sanitizing your facility is an essential part of not only keeping your products safe and protected for your customers, but also for you and your employees. The table below indicates how UV-C light and traditional chemical sanitizers alter your cleaning process in more ways than one.
| UV-C Sanitation | Traditional Chemical Sanitizers |
| --- | --- |
| Leaves no residue | Sticky, corrosive, toxic feeling when drying; needs to be washed off |
| No proven damage to process equipment | Likely to cause damage due to acetic acid and alcohol-based additives |
| Compact size covers any size area | Large quantities needed to cover large areas |