Marking and identification of contents in pipes and piping systems is important for both safety and maintenance. Pipe markers are used to visibly identify contents, flow directions, and hazard classification, thus promoting a safe working environment. Use the below legend and information to help you choose the correct pipe marker for your application.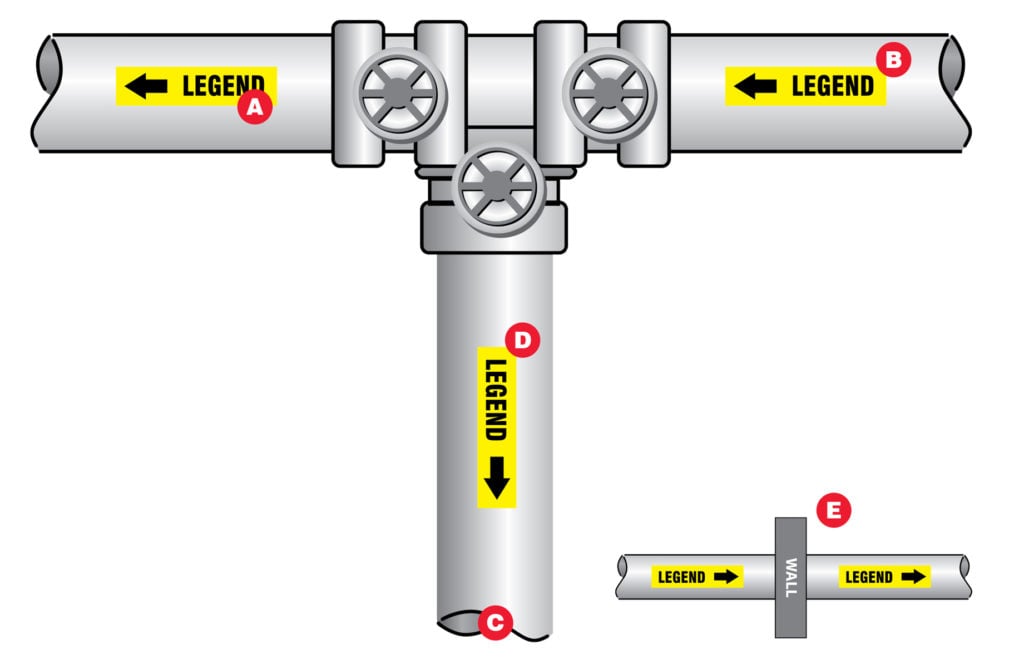 A. Legend
The legend on the marker gives the name of the contents in full or abbreviated form. Arrows should be used to indicate direction of flow.

B. Color
Colors can also identify the hazardous character of the contents in the pipes. ASME A13.1-2007 Scheme for the identification of Piping Systems states that a uniform system for the identification of piping contents has been established to warn personnel when the piping contents are inherently hazardous. This standard has been prepared to specify the identification of the contents of piping systems on the basis of legends, it also suggests the use of color as a supplementary means of identifying the type of hazard of the material contained in the system. Below are the colors that ASME recommends:

C. Pipe Outside Diameter
Pipe outside diameter, including insulation, determines the letter height and the length of pipe marker color field.
Outside Diameter
of Pipe
Length of Pipe
Marker Color Field
Size of Letters
¾ to 1-¼"
8"
½"
1-½ to 2"
8"
¾"
2-½ to 6"
12"
1-¼"
8 to 10"
24"
2-½"
Over 10"
32"
3-½"
D. Materials
Choose the correct material to fit the application.

E. Visibility & Location
Pipe markers are used to visibly identify contents, flow directions and hazard classification of material moving through pipes. Visibility and location of the pipe markers are very important. Make sure the pipe markers can be read from a distance. Some installation recommendations are:
Above or below center visual line of pipe.
Frequent intervals on straight pipe runs and visible from any point along the length.
Close to valves.
Near branches and Ts in piping.
Any change in direction of piping.
Near points before and after pipe goes through walls, ceilings, or floors; and at 25' to 50' intervals on long straight pipe runs.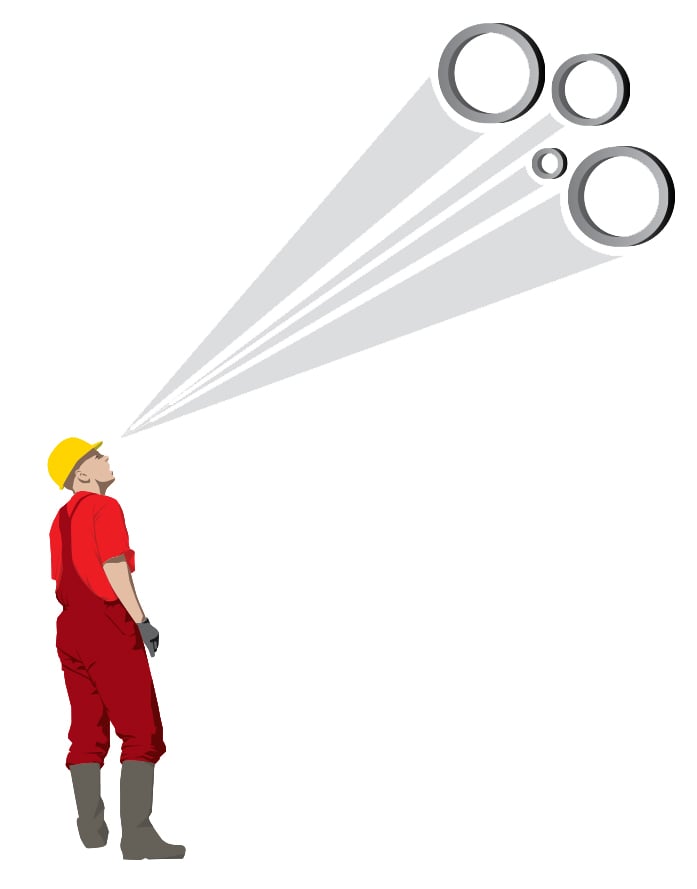 Product
Surface
Material
Temperature
Range
Maximum
Rec. Size
UV
Resistance
Chemical
Resistance
Abbrasion
Resistanc
Self-Stick Vinyl
Gloss
Laminated Vinyl
-20° to 176°F
4-½" x 32"
Yes
Good
Good
Cling-Tite
Gloss
Polyester/Vinyl
-40° to 302°F
25" x 12"
Yes
Excellent
Excellent
Snap Tite™
Matte
Rigid Vinyl
-4° to 158°F
25" x 12"
No
Good
Fair
Band-Strap Plastic
Gloss
Polycarbonate
-50° to 190°F
4-½" x 32"
Yes
Excellent
Excellent
Big Wrap™
Matte
Reinforced Vinyl
-4° to 158°F
168" x 36"
No
Good
Good
Reflective Self-Stick
Gloss
Laminated
Reflective Vinyl
-30° to 200°F
4-½" x 32"
Yes
Excellent
Excellent
Snap Tite™ Stencil
Matte
Rigid Vinyl
-90° to 168°F
17" x 39"
Yes
Good
Good
---
Pipe Marker Material
Self-Stick Vinyl
4 mil flexible vinyl overlaminated with a 2 mil, UV resistant polyester film to withstand harsh environments.
High-tack, acrylic adhesive back with peel-off liner.
Adheres to clean, smooth pipe surfaces.
Service temperature range: -20° to 176°F.
Directional flow arrow included.
Additional materials are available. Please contact our Facility Identification specialist for more information.
Information provided by Accuform.
Shop Pipe Markers