Shadow boards present many advantages such as speeding up processes and improving safety, extending the life of equipment, and eliminating missing tools. When creating a custom shadow board, there are various options to consider. Below, we break down some of the key components.
Shadow Board Benefits
Custom shadow boards help fulfill the requirements of 5S.
Sort: Separate tools that are needed to get the job done and remove everything else.
Set to Order: Place all relevant tools within reach of operatives and reduce the need to be away from the workstation.
Shine: Maintain safety and order in the workplace by keeping the tools clean and helping to reduce defects.
Standardize: Create practices that will ensure maintenance of the steps you have already taken by introducing Shadow Boards.
Sustain: Stay consistent and constantly review standards.
Material
There are three options available depending on the purpose
of your shadow board.

General Purpose Composite
Basic maintenance usage.
Dual-layered aluminum with plastic core.
50% lighter than Aluminum Grade.
Temperature range: -60° to 180°F.
Features anti-static properties.
Mold and fade resistant.

Industrial Grade Aluminum
Great for industrial, manufacturing, and construction usage.
Superior strength and rigidity.
Corrosion resistant.
Temperature range: -40° to 250°F.
Mold and fade resistant.

Pro Series Acrylic
Designed for food processing and washdown environments.
Subsurface ink will not chip, peel, or deteriorate.
Pressure washable.
Temperature range: -30° to 190°F.
Antimicrobial properties.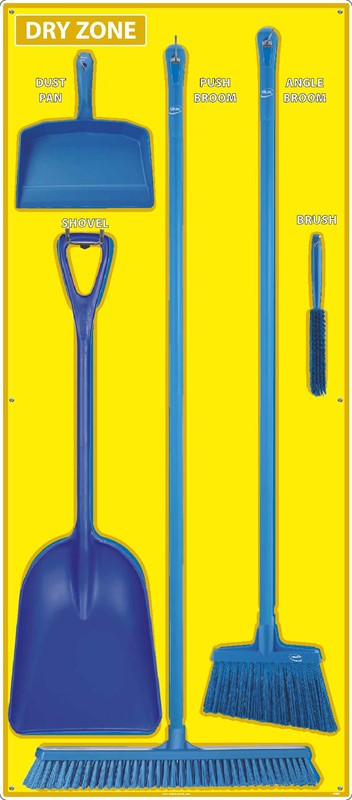 Steps to Create a Custom Shadow Board
Step 1: Choose Board Material
Choose from General Purpose Composite, Industrial Grade Aluminum, or Pro Series Acrylic.
Step 2: Identify Tools to Be Shadowed
List manufacturer, part numbers and descriptions, or take a clear, straight-on picture of each tool next to a ruler.
Step 3: Choose the Title and Background Color
Choose the title and background color of the board, and the title and shadow color of the tools.
Step 4: Specify Board Size to Accommodate the Tools and Fit the Space
If size is not an issue, board can be created to fit the tools with minimal blank space.
Step 5: Consider Adding Information
Consider adding your color-coding chart, company name, logo, or other images by supplying a vector file (.EPS or .AI)*.
*A .JPEG can be used if it doesn't need enlargement.
Information provided by National Marker Company.
Contact our Product Specialists for additional information:
sales@nelsonjameson.com or 800.826.8302.