Biofilms are hearty amalgams of microbiological activity that provide protection for microorganisms, and can form on a variety of surfaces in food processing environments, including stainless steel. A supercell of harborage, "Biofilms are complex microbial ecosystems formed by one or more species immersed in an extracellular matrix of different compositions depending on the type of food manufacturing environment and the colonizing species" (Geaile, et al). The "matrix" formed creates a powerful source of protection and fuel.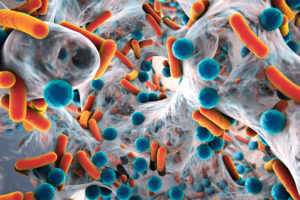 Though biofilms are capable of creating a lot of hassle when it comes to cleaning, spoilage concerns, etc., Gaile, et al, in "Biofilms in the Food Industry: Health Aspects and Control Methods" note: "Of particular importance to the food industry is that some biofilm-forming species in food factory environments are human pathogens." With biofilms aiding and abetting pathogens, the cost of not waging an effective sanitation onslaught, may create food safety issues of serious proportions. This is even further complicated by the fact that, "Mixed biofilms show higher resistance to disinfectants such as quaternary ammonium compounds and other biocides" (Gealie, et al.). This means traditional cleaning protocols may not be enough to counter the threat biofilms pose to public health.
Nelson-Jameson has an array of solutions to help you combat biofilms in your food and beverage processing facility:
Providing effective and efficient cleaning solutions, like hygienic brushes and squeegees from Remco and Carlisle, to cleaning chemicals options from Hydrite and Best Sanitizers.  


Formulating and offering the best enzymatic cleaning solutions from Realzyme.


Offering the best in testing solutions, including ATP testing equipment from 3M™, as well as offering sampling collection/sample integrity products from Whirl-Pak® and QualiTru.