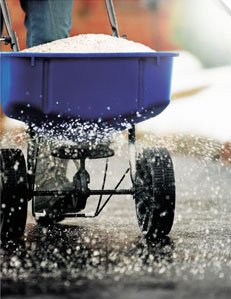 Here are some helpful tips to remember when using ice melt to prevent icy sidewalks and driveways.

USE IT!
Whether it is in an effort to save money or time, skipping ice melt means that you are setting yourself up for slippery sidewalks, entryways and parking lots. This could be an expensive mistake for your company.

DON'T USE TOO MUCH
Evenly spread application is essential for optimal melt. Applying ice melt using a spreader ensures even application,
while scoops and shovels are most common, they can
cause overuse or piling in areas.

KNOW WHEN TO APPLY
Todd Spencer, former National Sales Manager for North American Salt, is quoted saying "pre-application is ideal as an initial deterrent before the snow falls, though it is often difficult to predict necessity." Ice melt must be applied on the ground/ice for it to be effective, not on a pile of snow.