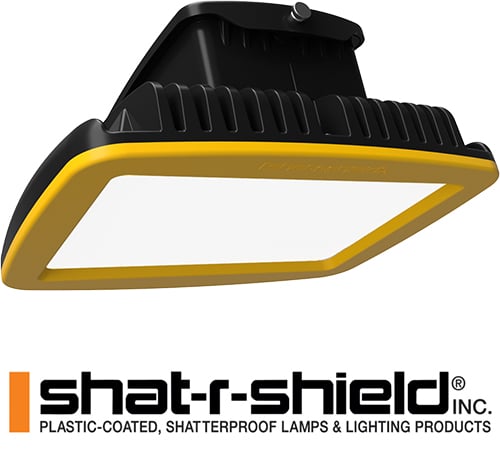 The Incoplas® LED Hybrid Hazloc, from Shat-R-Shield®, is a durable multi-purpose and corrosion resistant LED lighting solution that can be used in heavy industrial applications where hazardous location lighting is required.

Features:
Specifically designed to withstand moisture, dust, chemicals, salt spray
and harsh environments.
Uses thermally conductive engineered polymers to extract heat away from
the light source and offer consistent heat dissipation.
Significant weight reduction over comparable aluminum fixtures.
Multiple mounting options to choose from.

---
Identify which Class & Division is most suitable for your application:
Class 1: Flammable Gases and Liquids
Division 2: The hazardous atmosphere is only available infrequently (i.e. in case of spill). Groups A, B, C, D: Includes acetylene, hydrogen and similar gases to it, plus common flammable substances such as butane, gasoline, natural gas and propane.
Class 2: Dust
Division 2: The hazardous atmosphere is only available infrequently (i.e. in case of spill). Groups F, G: Group F contains dusts consisting of or containing carbon or its compounds (i.e. coal), and Group G dusts are non-conductive dusts (i.e. grain, wood or plastic).
Class 3: Fibers or Flyings
Contains easily ignitable fibers or flyings, but the concentration of those fibers or flyings are not suspending in the air in such quantities that would produce ignitable mixtures.
Chemical Resistance:
The Hybrid LED fixture is uniquely made completely of non-metal materials, except the Stainless Steel 316 screws, to hold up to the harshest environments. The housing is made of a specially compounded thermally conductive polycarbonate resin, which allows for excellent heat transfer and eliminates the typical aluminum housing, which has coatings that are highly receptive to corrosion and degradation.
In general, the Hybrid fixture has good resistance to water, organic and inorganic acids, neutral and acid salts and aliphatic and cyclic hydrocarbons. Alkalines, amines, ketones, esters and aromatic hydrocarbons attack polycarbonate.
Click here for more information on chemical resistant lighting from Shat-R-Shield®.
---