Not finding the sign you need? You can customize!
Whether in your plant, in the lab, in the warehouse or on your docks—signs
make a safer workplace. Designed to improve communications and meet OSHA requirements.
To order stock safety signs, click here.
HOW TO ORDER

Choose sign material:
Adhesive Vinyl
Aluminum
Dura-AlumaLite
Dura-Fiberglass
Lumi-GlowFlex
Dura-Shield
Plastic
Adhesive Dura-Vinyl
Dura-Plastic
Accu-Shield
Lumi-GlowPlastic

Specify sign size:
3.5 x 5
7 x 10
10 x 14
14 x 20
5 x 7
9 x 12
12 x 18
Other

Decide layout:
Horizontal
Vertical

OR choose custom or no header:
Select background color
Select text color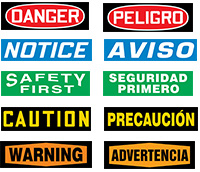 TO ORDER: Call Customer Service 800-826-8302
Note:
Custom products are made to YOUR specifications; therefore orders cannot be cancelled and are not returnable unless defective.