Upgrade your SQF, 5S & Lean Manufacturing Initiatives and organize your tools.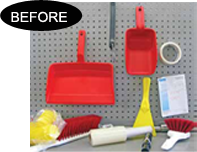 Organize your tools, supplies, equipment, and materials.
Provide striking, graphical visual point-of-storage for the tools.
Shadow outlines with words identify where tools should be when not in use.
Show readily available tools to maintain machinery, equipment, and operations.
Account for missing tools and equipment, avoid time wasted looking for and replacing them, and ensure availability when needed next time.
HOW TO ORDER
| | |
| --- | --- |
| 1 | Choose board material: Accu-shield™ FB-X, Accu-shield™, Ultra Aluma-Lite™, Max-Duty Aluminum, or Diamond Aluminum. |
| 2 | Identify equipment to be shadowed: List by manufacturer part number or supply dimensions of items. |
| 3 | Choose background and shadow colors. |
| 4 | Choose hanging devices, such as pegs, hooks, or shelves. |
| 5 | Specify board size to accommodate the equipment and fit the space. |
| 6 | Consider adding your color-coding chart or other images by supplying a vector file (.EPS or .AI)*. |
| 7 | Consider adding your company name or logo by supplying a vector file (.EPS or .AI)*. |
|   | * A .JPEG file can be used if doesn't need enlargement. |
TO ORDER: Call Customer Service 800-826-8302
Note:
Custom products are made to YOUR specifications; therefore orders cannot be cancelled and are not returnable unless defective.
Additional Information Available
Request your FREE copy of these catalogs featuring products to aid in implementing/upgrading your 5S, SQF and Lean Manufacturing Initiatives. Click here or call 800-826-8302.